This article will walk you through the different options in the Reset To Safe button in Transfer Inventory V1 & V2
Reset To Safe is a way to move all of the product quantities that is currently in one or multiple Inventories to another Inventory, not just Safe. This option is useful when transferring a delivery driver's inventory back to the Safe or a Sellable inventory at the end of their shift.
NOTE: When selecting products to transfer, all of the product's quantity will be moved to the inventory specified. If you only want to move a specified quantity of a product, then use the Create Transfer option.
Reset To Safe
1. BLAZE Retail > Inventory > Transfer Inventory V1 or V2

2. Click on the RESET TO SAFE button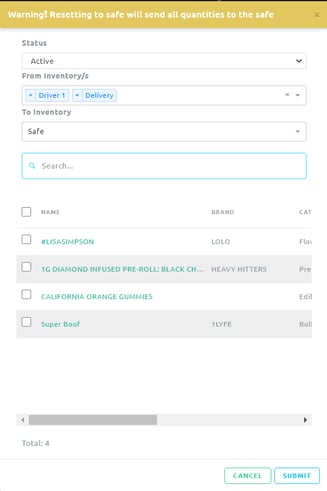 Status: select All, Active, or Inactive products
From Inventory/s: select one or more inventories to transfer products away from.
To Inventory: select the inventory to transfer the inventory to
Search: you can search for specific products to select by checking the box next to the name
Or Check the box at the top of the column next to Name to select all products in this/these inventory/s
TIP: Scroll to the right in the product list to see the Inventory and Stock Remaining for each product.
View Transfer History
NOTE: When transferring products from multiple inventory rooms, a separate inventory transfer will be created.
1. BLAZE Retail > Inventory > Transfer Inventory V1 or V2 > Transfer History
2. Enter the Start and End date for the Transfer
3. Notice that individual transfers were created for each Inventory selected.