The information in this article will walk you through setting up the Tax Options for Oklahoma.
Overview
Veterans in Oklahoma do not pay State Sales Tax. Their orders will only be subject to the Excise Tax.
Shop Information - State
Global Settings > Current Shop settings >Shop Information
Verify the state is set to Oklahoma
NOTE: Veteran Member Level will only be visible to Oklahoma shops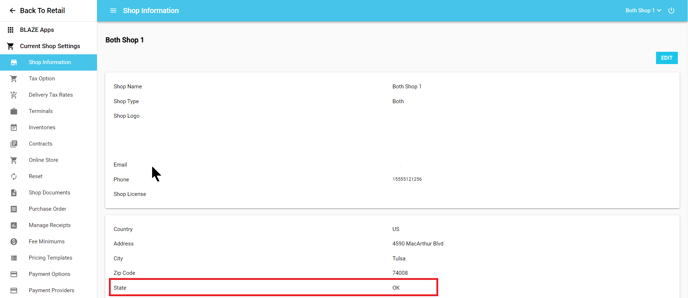 Tax Options
Global Settings > Current Shop Settings > Tax Option > Cannabis Tax
Click on the Edit button
Set the Tax Option to Complex
NOTE: Complex entails that different tax rates can be set based on the specific consumer type. This is most applicable to states with variable tax rates based on a member's consumer type (i.e., Veteran).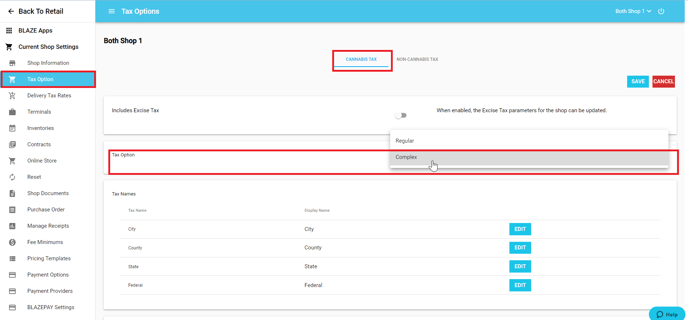 Tax names can be customized to display a different name than the traditional options.
In the Tax Names section, click Edit on the Federal Tax line
Change the Display Name from Federal to Cannabis Excise Tax
Click SAVE

Adult Use vs. Medicinal - MMIC vs. Veteran
NOTE: Adult Use should not be needed to set up in your tax option, but if a customer is added as Adult Use by accident, they will still be taxed accordingly. (Ensure all customers are added as applicable, MMIC or Veteran)
You will need to add tax rates to each consumer type in BLAZE. Fill in the following information for each Consumer Type*:
Name: Name of the traditional option in BLAZE
Display Name: Name that displays to the customer when checking out / on their receipt
Tax Rate: Numeric value of the tax rate
Compound: Should be set to No for Oklahoma
Tax Order: Pre or Post. See the Post-Tax vs. Pre-Tax support article for more detail

Post: Your tax option will default as a "post-tax" calculation, meaning that the rates will be added to the final subtotal. After taxes are calculated, there will be a new final total.
Pre: The pre-tax option will still calculate a value based on the specific rates but NOT affect the final subtotal. With this option enabled, BLAZE will reverse engineer the applicable tax rates starting from the final total.

Active: If enabled, the tax rate will be applied

*Typically, for non-cannabis products, the rates for all three consumer types will be the same. However, if Complex is specified for Cannabis Taxes, then Complex MUST also be set for Non-Cannabis Taxes.
Repeat this setup for Non-Cannabis products with Tax information specific to Oklahoma
Veteran Member
NOTE: Veteran members need to have the Consumer Type of Veteran in their member profile to be exempt from State Sales Tax.
Retail > Members
Select the member or click the ADD MEMBER button
Complete the member information
Consumer Type: Veteran
Click SAVE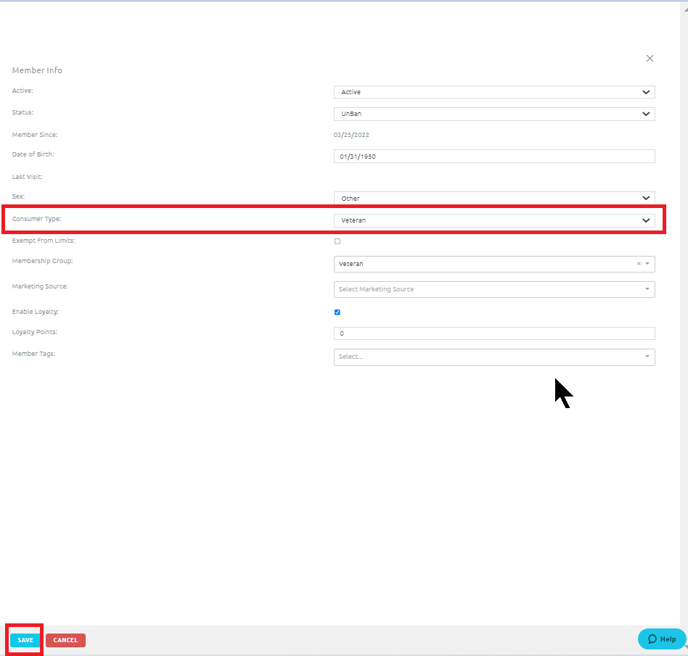 If you have further questions, please reach out to us at support@blaze.me!
***Always consult a Professional / CPA / Attorney before setting/changing your taxes ***
BLAZE® is a complex and sophisticated SaaS platform that provides a series of individual tax settings for each client customer, subject to the advice of their tax advisor professional that enables the client customer to comply with local, state, and national government tax schemes. YOU ARE SOLELY RESPONSIBLE FOR YOUR TAX SETTINGS. TAX RATES, NAMING CONVENTIONS, AND OPERATION ORDER FOR THOSE RATES VARY BY JURISDICTION AND ARE SUBJECT TO CHANGE. YOU AND YOUR TAX PROFESSIONAL ARE RESPONSIBLE FOR REVIEWING, UPDATING, AND APPLYING THE SPECIFIC TAX SETTINGS, RATES, AND THE ORDER OF OPERATION FOR YOUR SERVICE AREA(S). THE COLLECTION, RETENTION, AND PAYMENT OF APPLICABLE TAX LIABILITIES TO APPROPRIATE AUTHORITIES IS YOUR SOLE RESPONSIBILITY. BLAZE® MAKES NO WARRANTY NOR REPRESENTATION THE TAX SETTINGS, RATES, AND THE ORDER OF OPERATION YOU SELECT ARE APPROPRIATE AND CORRECT. YOU EXPRESSLY AGREE BLAZE® SHALL NOT HAVE ANY LIABILITY FOR UNDER OR OVERCOLLECTION OF YOUR TAX LIABILITIES BASED UPON THE SETTINGS YOU SELECT.