This Checkout Type is designed for orders that have two employees processing an order. One employee prepares the order, and the other employee fulfills and checks out the order.
Our Two-Step Fulfillment System Involves 2 main steps: Preparing and Fulfilling the order.
Global Settings
Before using the Two-Step Fulfillment System, it must be enabled for the terminal(s) using it. This can be done on the Web in Global Settings.
Navigate to BLAZE > Global Settings > Current Shop Settings > Checkout Process > Select Fulfillment

Navigate to BLAZE > Global Settings > Current Shop Settings > Terminals
Click the Edit button for the desired Terminal to be enabled for Two-Step Fulfillment
Checkout Type: Select the Fulfillment option
Click the Save button
Repeat as necessary
The modified Terminal(s) are now ready to process orders using BLAZE's Two-Step Fulfillment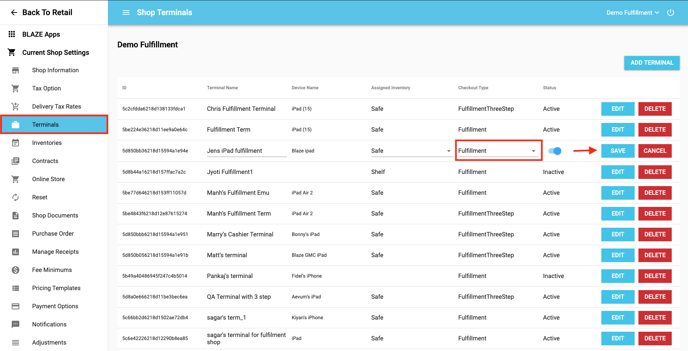 Prepare the Order
To start, make sure you have an open Cash Drawer
Navigate to POS in the Menu
To change Terminals click the Change button
Click Start Drawer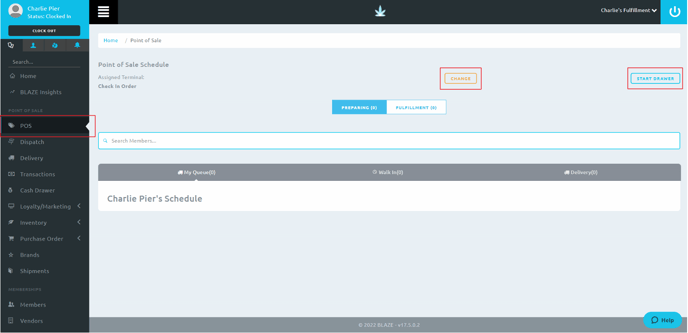 Navigate to Dispatch in the Retail Menu.
New orders can be processed by looking up an Existing Member or creating a New Member.
Existing Member
If a Member already exists, navigate to Find Member.
Search the member's name in the search bar
Click inside the box to add the member to the queue
NOTE: Click the member's name to be taken to the member's profile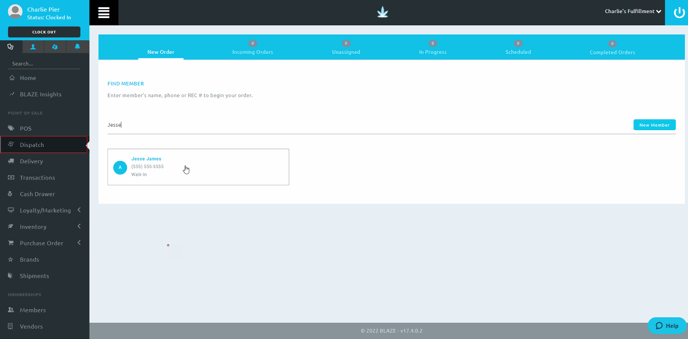 2. You will be able to see any alerts or expiry dates for your member. Edit if needed.
Select Pickup for a walk in order
Click Continue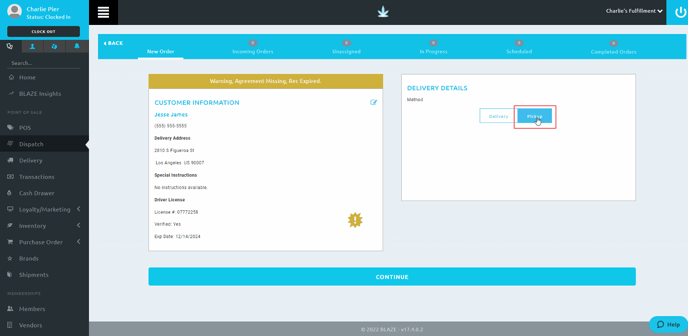 3. Click Send to Unassigned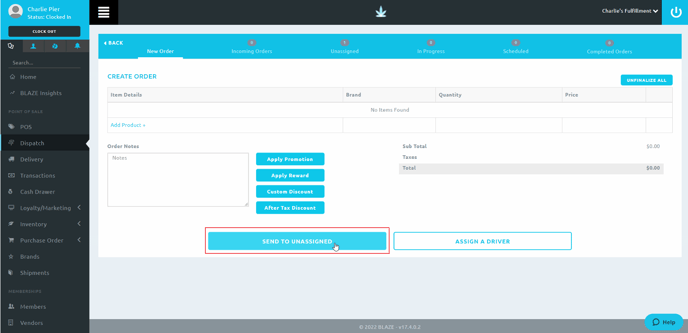 4. You now see you have an empty transaction for your member in the Unassigned queue.

NOTE: To continue preparing the order, skip to step 7 in the following New Member section.
New Member
1. To sign up a New Member, navigate to Dispatch and click New Member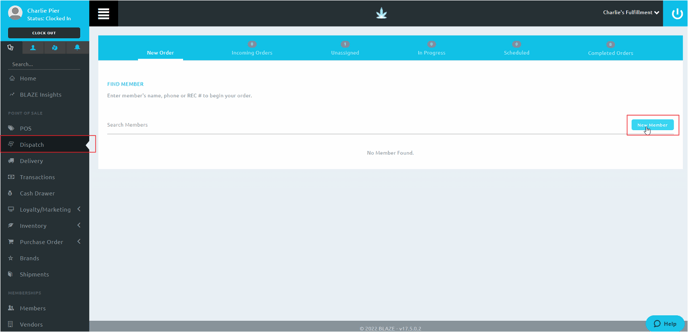 2. Enter in the Member information and click Save
NOTE: You are able to scroll down on the New Member window.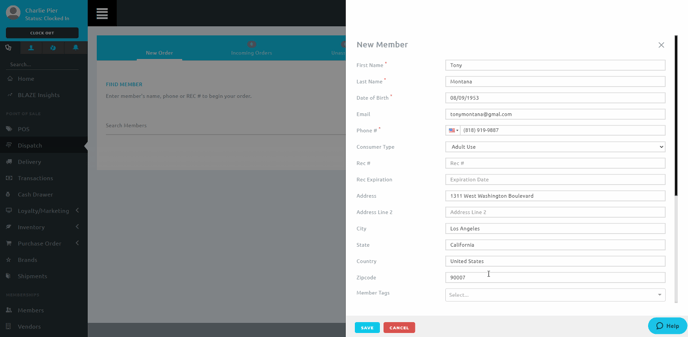 3. We are alerted here that we need to enter their Driver License information
Click on the Member's name to view their profile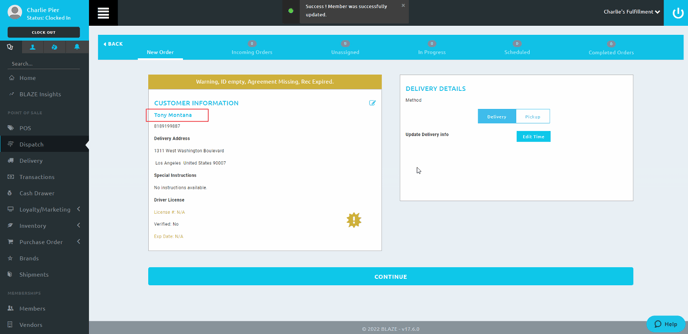 4. Here you are able to see the full Member Profile and make any changes that are needed
Driver License information is located in the Member Identification section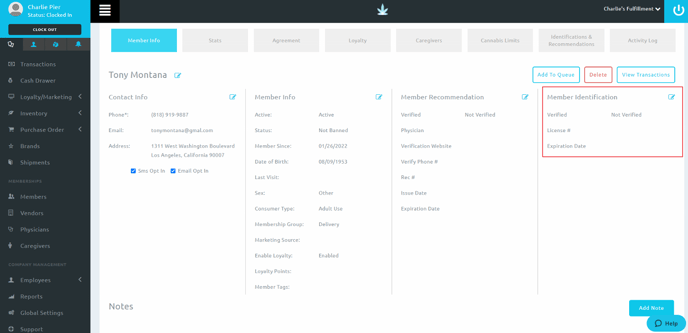 5. After updating the information, click Add To Queue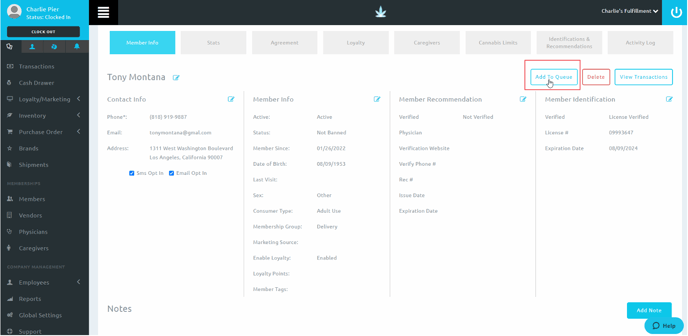 6. Select Add To Walk-In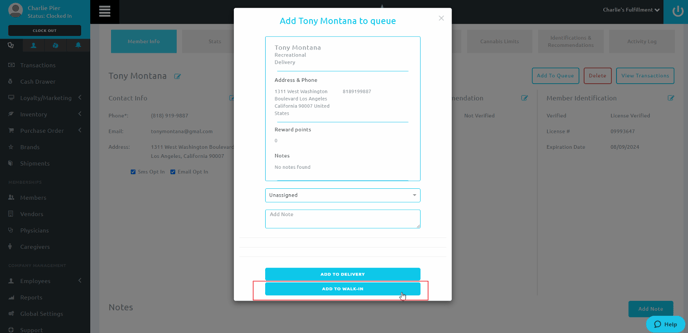 7. Once your member is in your queue, navigate to POS
You will see the order is in the "Preparing"
Select Walk In to see the transaction
Click Start/Resume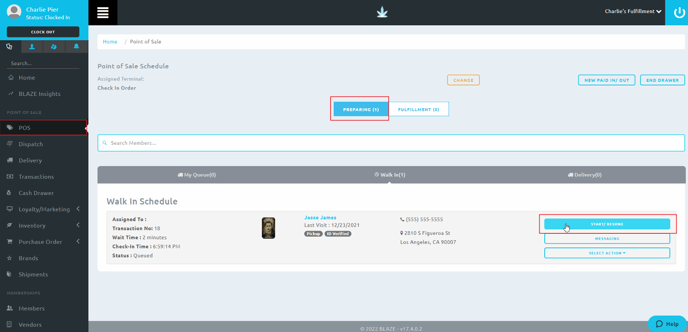 8. Select the products for this transaction by clicking the ADD button of each product needed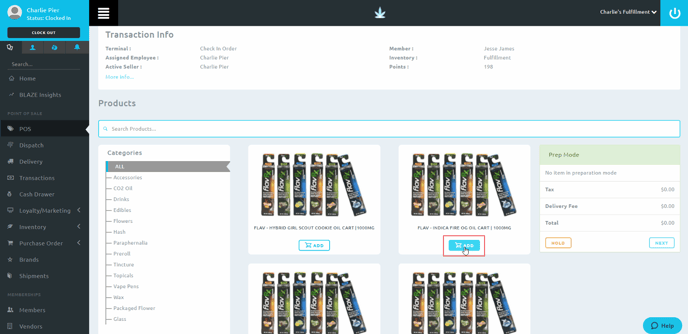 9. You will be given a window to choose the quantity of product needed

10. You will see the products selected in the Prep Mode window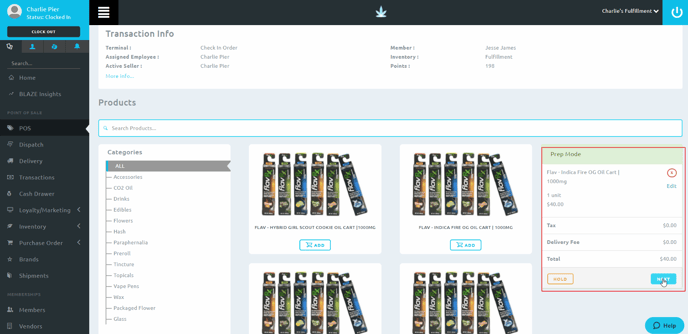 11. In Checkout you have the opportunity to edit your order if needed
You can also add Promotions or Discounts to the order
Click Send To Fulfillment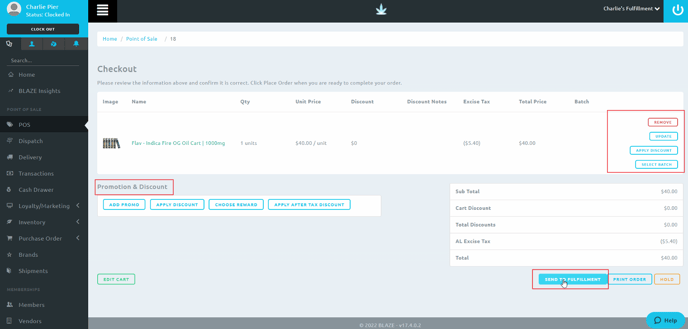 Fulfill
1. You will see this transaction is now in the Fulfillment queue

2. In Fulfillment go to the transaction and click Start/Resume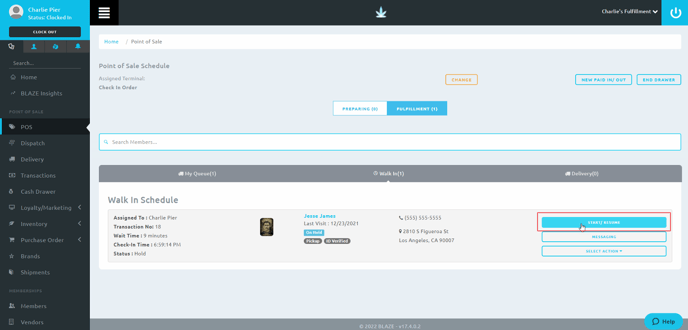 3. When the order is ready to be packed, click Fulfill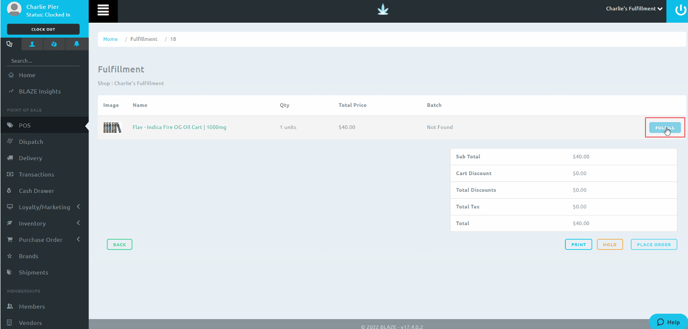 4. The transaction is now ready to be tendered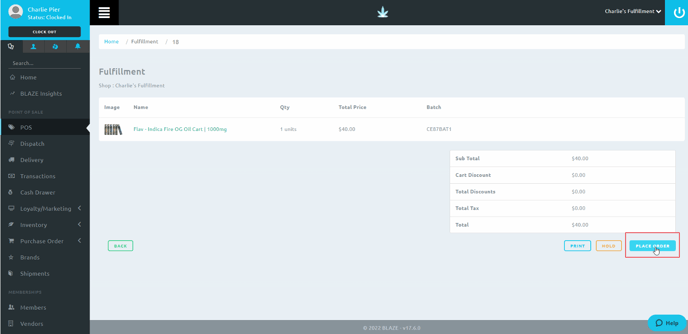 5. You will be in taken to the Payments screen
Choose the payment option needed
NOTE: if using multiple payment options, click Multiple Payments before selecting a payment method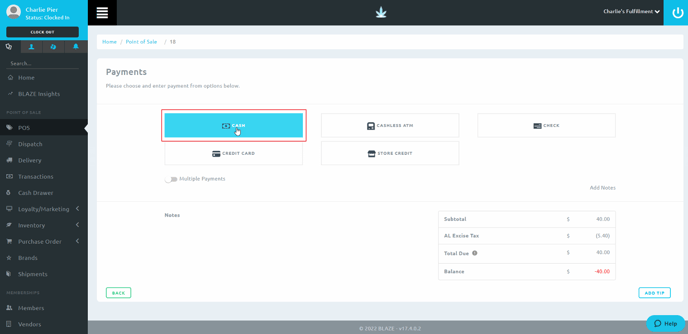 6. Enter your payment amount in the Enter Amount window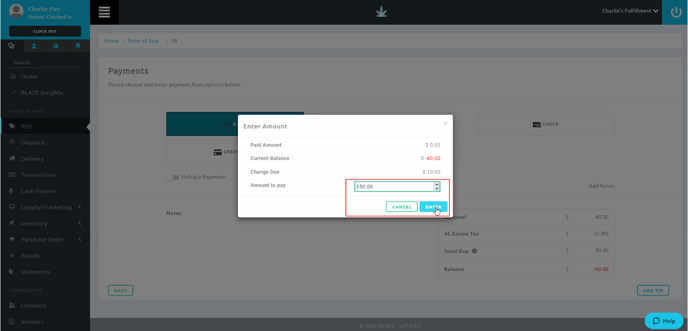 7. On the main screen you will see the amount of Change Due
You will get a pop up window to Print which will print the transaction, Print Receipt, Go To Queue or Send Receipt
Click one of the options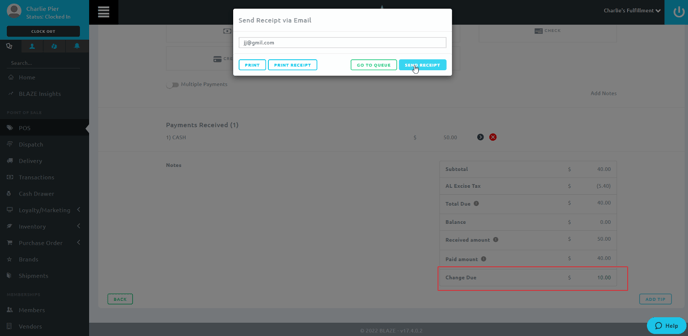 8. You will then see that the transaction is completed and no longer in the queue
Note: You can go to the Menu on the left and click into Transactions to see your past transactions