Dispatch App | DispatchPro Orders Section
DispatchPro Orders Section
Orders Section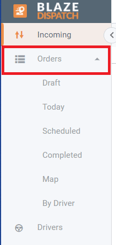 Today

Today: Orders (transactions) whose delivery date is from the past to today
Search: Search by any field in the order
Bulk Edit: perform an update on multiple orders at a time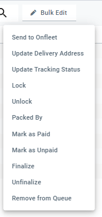 4. Filter: by Status or by Queue

Draft
The draft orders are temporary orders that are held until accepted or deleted.
NOTE: These orders will be deleted after the time specified in the shop's configuration if they are not accepted.
Scheduled
Orders whose delivery dates are from tomorrow forward
Completed
Orders that have been completed. By default, today's completed orders will display but you can change the date range to display other completed orders.
Map
Shows a map of the current orders

Theme: You can choose different themes to display the map
Standard
Silver
Retro
Dark
2. Today: Date range filter
Today
Schedule
This Week
This Month
Custom
3. Filter: By status
Order In progress
Queued
Hold
Pending
Completed
4. Displays the Filter selected in number 3.
5. Regions: By Regions
By Driver
Shows the orders by driver

Search: Search for an order
Filter: by date range

Today
This Week
This Month
Custom

Columns: choose the columns to display on this view
If you have further questions, please reach out to us at support@blaze.me!