Insights (Advanced) | Dashboard Filter Groups
Filter groups allow you to define sets of filters for your dashboard, making it easier to organize your dashboard filters.
Overview
How to create filter groups
Add filters to the dashboard.
To create a new filter group, click on the +Filters button and select Filter Group.




This will display a new text field. Enter a name for the filter group here, and press the enter key to save it.
Then drag a filter onto this filter group using the drag icon next to the filter name.
You can add multiple filters to a filter group in this manner.

Delete Filter Group
Delete a filter group and all filters added to it.
Click on the menu button next to the filter group name.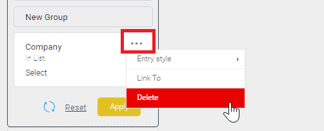 Click on the delete icon to delete the filter group.
Rename Filter Group
Double click on a filter group name to make it editable, and then rename it.