Retail | Creating a Sub Lot (split) from a BioTrack Batch
This article will walk you through "breaking up" a batch so that some of the product can be separated from the parent batch.
Splitting or sub lotting a batch is used when you need to separate a part of a batch from the parent batch so that something can be done with that product. For example, when you need to destroy product due to a defect, return, etc.
Sub Lot / Split
Go to BLAZE Retail > Inventory
Find and Select your product
Click on the Batches Tab
Click SPLIT on the batch that you need to separate product from

Select the Inventory to remove the product from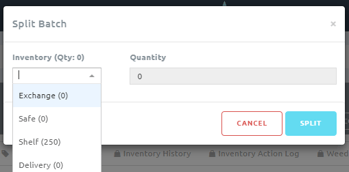 Enter the number of products to sub lot / split
Click SPLIT
Click the REFRESH INVENTORY button.
Notice that there is now a separate batch with just the items that were sub lotted / split

If you have further questions, please reach out to us at support@blaze.me !