Retail | Creating Shop Contracts
BLAZE allows two different types of Contract Documentation that can be linked to each member profile when active.
To Add a New Contract
1. Navigate to the "Contracts" (green arrow) tab under "Current Shop Settings" found in the Global Settings.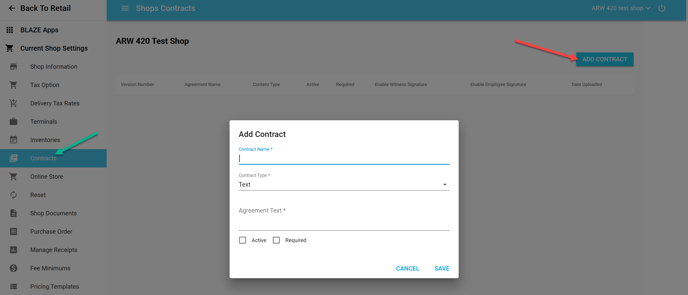 2. Click Add Contract to prompt for a new contract.
For Text type: Enter the Contract text (plain text only) into the Agreement Text Box and save.
For PDF type: (Shown Below): Click the UPLOAD PDF button, select the pdf locally on your device and save.
3. Contracts can be turned Active or Inactive and can be toggled to be "Required" when a member is added to the shop.
After a Contract has been added, it can be edited to enable two extra signature fields when adding a member: Witness and Employee.