Connecting your Zebra to your Mac for printing labels through the Web.
NOTE: For Zebra printers, make sure you have the 203DPI model

Download QZ Tray
1. Navigate to qz.io
2. Upper Left click "Download"
3. Download QZ Tray V2.1.5 (Recommended Version)
(NOTE: Java may be required in order to download the QZ Tray. It will prompt you to download if you have not done so already)
Setting Up A Raw Printer in OSX
Follow the steps listed:
1. Open a Terminal window: ⌘(Option)+space
2. Type in search > Terminal
3. Copy/Paste: "cupsctl WebInterface=yes" in your Terminal and Enter
* This will return a single line code. Continue to step 4.
4. Click link http://localhost:631 to load the CUPS web interface.
*Enter your username and password or the root username and password to access this page.
Note: username and password can be found by going to:
- System Preferences
- Users & Groups
- Current user's name on the top left and the password for your computer.
5. Click the Administration tab > Add Printer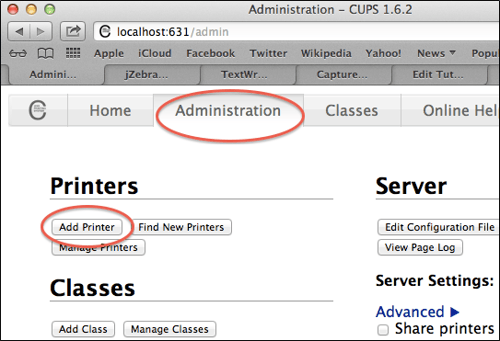 6. Select AppSocket/HP JetDirect > Continue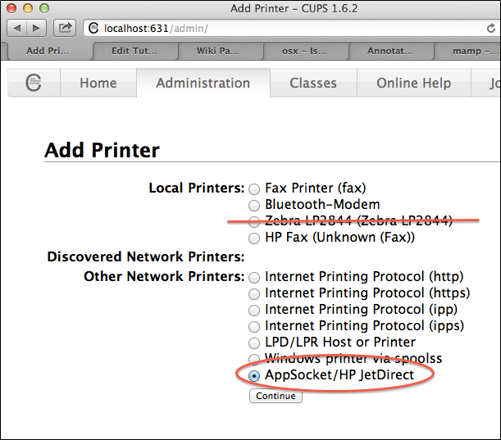 7. Connect the Printer USB to your computer.

Copy > lpinfo -v |grep usb
Paste > into the Terminal
The terminal should respond with something like >
usb://Zebra%20Technologies/ZTC%20ZD410-203dpi%20ZPL?serial=50J184304685
8. Copy and paste this response into the Connection field.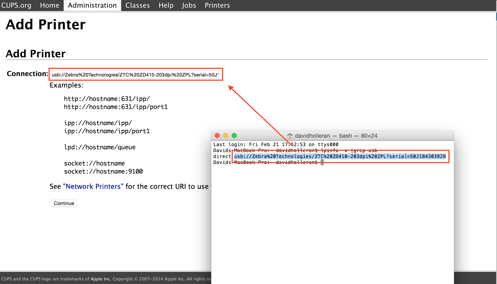 9. Add Printer
Name the printer ZDesigner
Enter ZebraZD410 in the description field
Enter MacBook or Mac in the Location field
NOTE: Leave the "Share This Printer" box unchecked and hit Continue.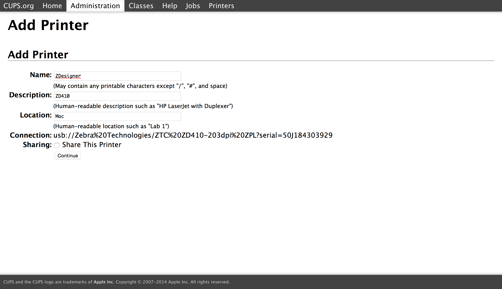 10. Make: Raw > Continue > Add Printer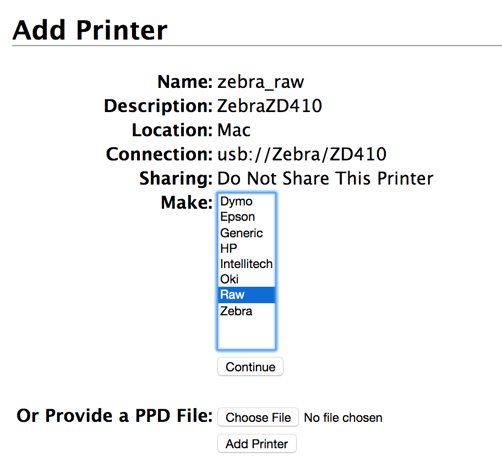 11. Starting Banner: None
Ending Banner: None
Click Set Default Options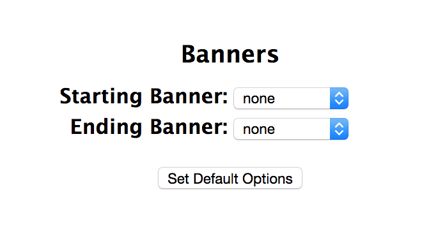 Adding a Printer Class
Adding a printer class allows the raw device to be listed in the System Preferences
1. Administration > Add Class
Name: must differ from the raw printer name chosen previously.
Description: This is what you will read in your system preferences printer name.
Location: Computer (Mac)
Members: Select the printer name you added previously.
Add Class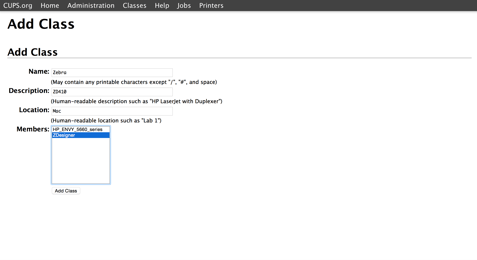 2. Go to System Preferences and click on Printers & Scanners
- Select the printer is defined by the Class Name.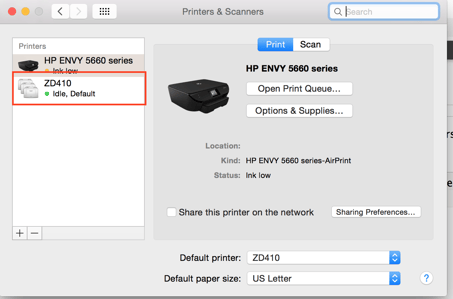 3. Now you can Navigate to BLAZE > Inventory > Print Labels
- Add a Querry
- Be sure your Layout is set to Zebra Labels
- Generate and then select Connect to Zebra (see pic below)
- Allow then you will see "Success Printer Connected"
- Print Zebra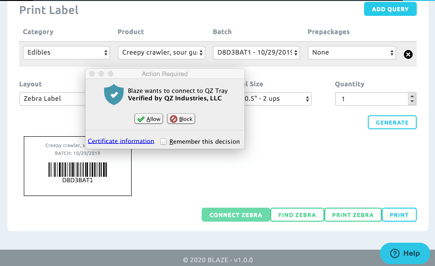 Troubleshooting
Go to your QZ Tray up at the top of your Navigation Bar (Green Box) and click Reload.