Retail | How to use the "Convert Product" feature.
This article is meant to outline the process that will need to happen in order to move 1 product's batch quantity and information, into a different product profile.
There are two different types of conversions that can happen:
- Grams > Units. Recommended/Typical use = Bulk Flower > Prepackaged Flower
- Units > Units. Not recommended, but supported.
NOTE: This process will only work for Metrc and Tribal customers.
Step 1: Navigate to a product profile and select "Convert Product" from the available actions, at the top of the page.

- Once selected a pop-up window will be displayed.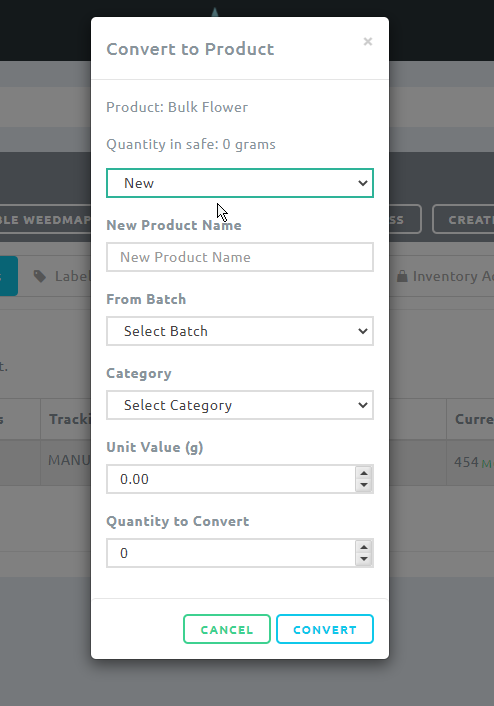 Step 2: Fill out the information available within the pop-up window. *Starting from top to bottom*
2a. Select "New" or "Existing" from the first dropdown. This depends on whether or not the final product is already created or not.
** If "New" is selected, then enter in a New Product Name.
** If "Existing" is selected
- Click on the prompt to "Select Product"
- A second pop-up window will show, where you will be able to select from existing menu items.

First, select the desired category.
Then the desired product.

2b. Select Batch
2c. Then select the appropriate Category. (Not available if an existing product is selected)
2d. Select "Quantity to Convert" - How many units do you want?
Step 3: Click "Convert"