Retail | How to Destroy Product in BioTrack
This support article will walk you through destroying product so that it is removed from BioTrack Track and Trace.
Destroying product is a two step process. First you will sub lot / split product away from the parent batch and then you will select that separated batch to be destroyed and removed from your inventory.
Go to BLAZE Retail > Inventory
Sub lot / split your product first.
Find the newly create batch under the Batches tab
Click the DESTROY button

Click YES on the Destroy Confirmation Popup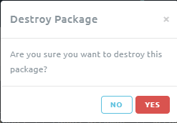 Click the REFRESH INVENTORY button to see that the batch now has 0 quantity
If you have further questions, please reach out to us at support@blaze.me !