Mass updating inventory is useful for editing multiple products at once. Updates can be done on a per-category basis or all categories.
To mass update products, navigate to the Product Category you would like to update under Inventory in the BLAZE dashboard menu. This is located right below Import Batches.
Navigating to the All category will have similar options for mass updating products as picking a specific Product Category (except Edit Price*, Weight Per Unit*, & Pricing Template*).

From there, use the checkboxes on the left of the product image to choose the products you want to mass update. Once selected, use the drop-down selector labeled "Action" to choose the action you want to mass update.
Category: All - Select Actions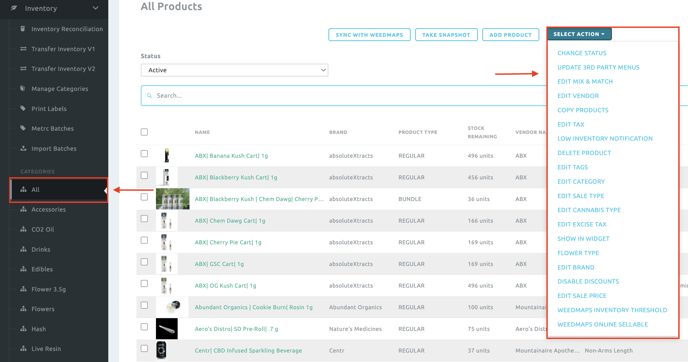 Example video: Mass Update - Select Action - Change Status
You can mass update the following attributes of a product under All Categories:
Change Status
Change Weedmaps Status
Edit Mix & Match
Edit Vendor
Copy Products
Edit Tax
Low Inventory Notification
Delete Product
Edit Tags
Edit Category
Edit Sale Type
Edit Cannabis Type
Edit Excise Tax
Show in Widget
Flower Type
Edit Brand
Disable Discounts
Edit Sale Price
Weedmaps Inventory Threshold
Weedmaps Online Sellable
Category: Specific - Select Actions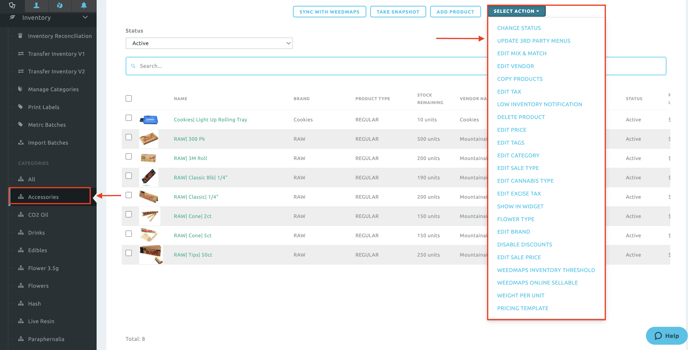 Example video: Mass Update - Specific - Select Action - Change Status
You can mass update the following attributes of a product under a Specific Category:
Change Status
Change Weedmaps Status
Edit Mix & Match
Edit Vendor
Copy Products
Edit Tax
Low Inventory Notification
Delete Product
Edit Price*
Edit Tags
Edit Category
Edit Sale Type
Edit Cannabis Type
Edit Excise Tax
Show in Widget
Flower Type
Edit Brand
Disable Discounts
Edit Sale Price
Weedmaps Inventory Threshold
Weedmaps Online Sellable
Weight Per Unit*
Pricing Template*