Automated Transactions on BLAZEPAY Pin Debit
This article will walk you through the process of completing a transaction on BLAZEPAY Pin Debit using the automated workflow.
When using Pin Debit through wifi or SIM cards that can be provided to you, you will be able to automate 100% of the payment collection process through either of the BLAZE apps & BLAZE Web. Your terminals should always be on the 'Spin Listening for Transactions' screen when connected to wifi. If you are not on this page, you can navigate to it by clicking the button on the top right of the screen that says 'Spin'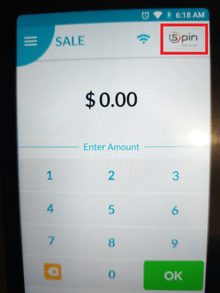 As a BLAZE user, to run an automated Pin Debit transaction, go through the transaction process on your BLAZE app of choice until you reach the tender screen. On this screen, you are presented with all of your available payment methods. In this case, click on 'BLAZEPAY'.
Once you have selected 'BLAZEPAY' you will see another window pop up. This window includes a MANUAL slider that should always default to OFF when your Payments Onboarder configured your shop. Do not turn this slider on, simply click to continue with the payment.

At this point you will see some spinning wheels on the BLAZE app you are using for this transaction, signaling that the connection has been made, and BLAZE is waiting for the customer to complete the payment on the Debit Card terminal. If you look at the Debit Card terminal at this point, you will see that the total has automatically been sent to the terminal and if you decided to allow for tipping on your terminals, there will be tip options available for the customer.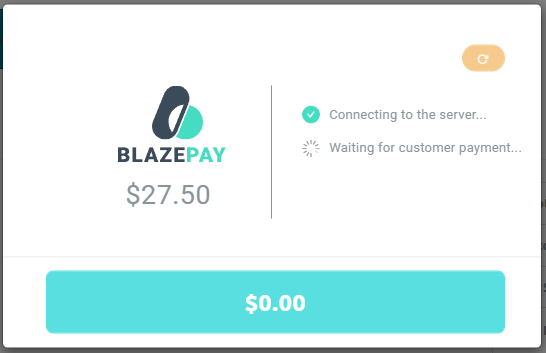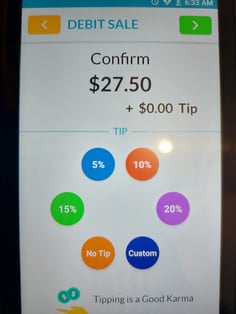 From here the customer simply needs to follow the prompts given on the Debit Card terminal to complete the payment, which will then automatically complete the transaction on BLAZE. You can now give the customer their product and move on!
The details of this transaction will be available in the cash drawer tab on any of the BLAZE apps or the BLAZE website under the 'BLAZEPAY Sales' and 'BLAZEPAY Tips' fields.

NOTE: If you want to enable or disable the tipping function on your terminals please send an email to pay-support@blaze.me so that we can request this from the processor. Turn around time can be up to two to three business days.

Details on all BLAZEPAY transactions can also be found in the BLAZEPAY Report & Log
Refunding & Voiding BLAZEPAY Transactions
Currently, the ability to refund back onto the customer's card is still a work in progress, so refunds must happen in cash. If you need to process a refund follow our GUIDE ON REFUNDS.
Once a BLAZEPAY payment has been applied to a transaction, with the exception of a refund it cannot be removed. So if you find yourself in a case where it was applied on accident, perhaps manually, you will need to VOID the transaction and re-ring it. If you need to void a transaction follow our GUIDE ON VOIDS.