What is Leafly Online Ordering?
Leafly has standard menu services that provide the ability to display your menu on Leafly with additional features such as brand-verified products and discovery tags to help better guide your customer's shopping experience. However, online ordering is a new feature of Leafly that allows consumers to place orders on leafly.com and have those routed directly into your BLAZE Retail shop as an incoming order.

How Does Leafly Online Ordering Differ from the Leafly Menu Integration?
Increase the ease of ordering for your customers by allowing orders to be placed directly on Leafly with the products listed on your Leafly menu.

Display your menu and enable Leafly online ordering for greater exposure to a wider audience on a name-recognized platform.

Orders from Leafly go directly into BLAZE, eliminating the need for order double entry.

Leafly service fees for delivery orders are automatically applied to orders, after-tax and non-discountable.
Prerequisites for Leafly Online OrderingEnable online ordering in Leafly (reach out to your Leafly representative to initiate online ordering
).
Mirror your tax settings in Leafly from your Tax Settings in BLAZE.

Read Leafly Online Ordering FAQ.

Integrate with Leafly.
NOTE: Once you enable the BLAZE order integration, your Leafly order dashboard will become read only. While the order integration is active, order fulfillment will take place within BLAZE.
How to Enable Leafly Online Ordering in BLAZE
1. Ensure you have met the prerequisites above.
2. Reach out to us at billing@blaze.me requesting us to enable Leafly online ordering for you.
3. Reach out to your Leafly representative requesting them to enable Leafly online ordering with BLAZE for you.
4. Leafly Setup
Leafly Setup
In Leafly's backend, navigate to the left side panel, click on the Settings arrow and select the Integrations option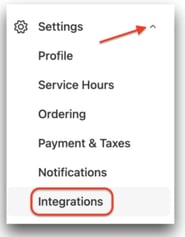 On the Integrations Settings page, click on the Orders tab.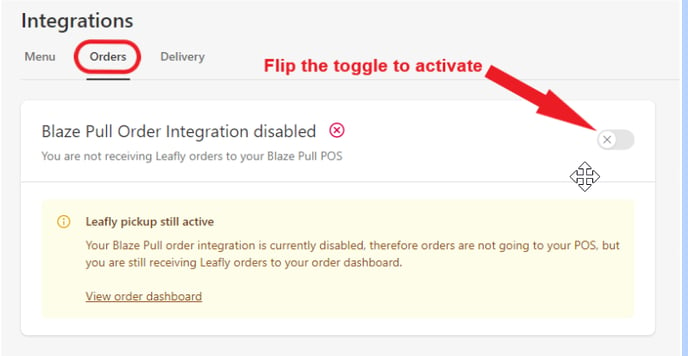 Once doing so, you will see that the ordering integration is now active: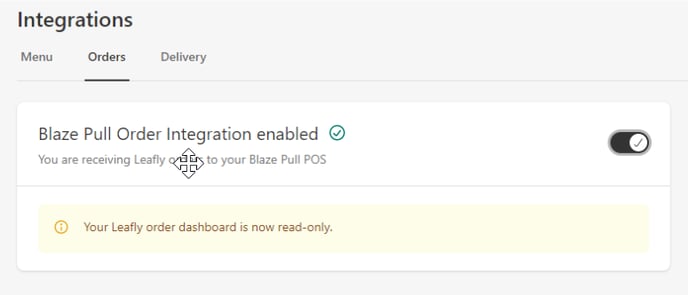 If you need to disable the order integration, flip the toggle on this page to disconnect
Order Notifications
Click Enabling Email Notifications for Online Orders to enable email alerts for Leafly orders.
Integration Guide Disclaimer
For further assistance or questions, please reach out to Blaze Support (support@blaze.me) or Leafly's Request Form to contact the Leafly Support Team.
Please also visit the Blaze Help Center and Leafly Knowledge Base for helpful hints and tips.
If you have further questions, please reach out to us at support@blaze.me!