Here we will go through the steps on how to add Sample inventory.
How to Create Sample Products
This can also be applied for promo, display, or fee items.
1. Create a Sample Category
NOTE: This only needs to be done for the initial set up, skip to step 2 if this category already exists
Go to Inventory > Manage Categories
Category Name: Samples
Category Type: Cannabis (If it is cannabis)
Metrc Category: Not assigned (you will define the Metrc category within the sample product created)
Cannabis Type: Default
Category Unit: Unit (set as grams if all items will be sold as grams)
Click the + to save

2. Create a Sample Product
If you already have the original non-sample product in your current inventory, you can go to that product and select "Create Copy."
If you do not have an original product to create a copy, you can add a new sample product to the Sample category tab you created in Step 1.
Create Copy: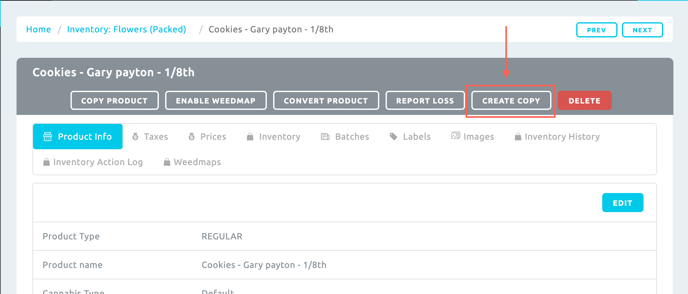 NOTE: When creating the Sample product, BLAZE recommends entering "Sample" in the product name, along with the original name or any way you prefer to distinguish a SAMPLE product.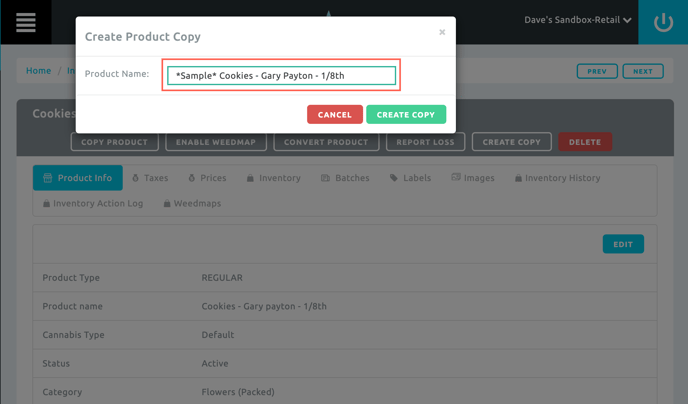 3. Editing the Sample Product *IMPORTANT*
Once a sample product is created, you will need to locate the product and edit it to complete important details.
Edit / Update:
Metrc Category: Shown on your Metrc manifest
Weight Per Unit: Shown on your Metrc manifest
Retail Value: Value is based upon the shop
Sync to Third Party Menus: Be sure to disable to not show product on third party menus
Show In Online Widget: Be sure to disable to not show product on your online menu
4. Receiving Inventory
After your sample product set up is complete, you can receive/add inventory batches through either one of the following methods (select only ONE option or you will have duplicates):
5. Ready for use
After creating the sample product and adding inventory, this sample is ready for use / sell / display. As long as this product is set to active, it will be available to be tendered in BLAZE
NOTE: If the online widget & 3rd party sync are DISABLED, they will NOT display to your customers.
Useful Tips
*If you do not want the sample category to be shown on your menu, go to > Inventory > Manage Categories > uncheck the "Active" box to make the category inactive.
NOTE: This will prevent you from adding or editing items in this category until it is set to active again.

*If you don't want a specific individual sample product visible on your menu, you can make the product inactive.

*If you want to create a separate inventory to hold samples, go to Global Settings > Inventories > Add Inventory > create an inventory for Samples / Displays > transfer sample products to new inventory.